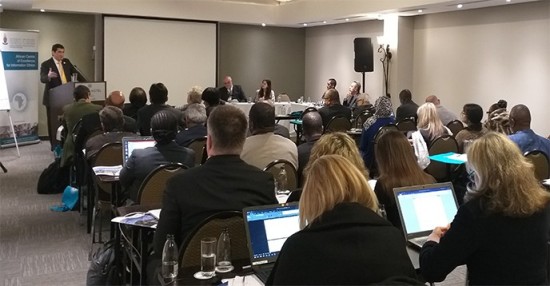 Rafael Capurro with Dr. Boyan Radoykov (UNESCO) (See: UNESCO News)
on the right: Dr. Coetzee Bester, Director of the African Centre for Information Ethics (ACEIE)
See: Gallery
See my keynote: Digital Futures

See also: ACEIE Newsletter 2018


***


CFS Award for Digital Ethics


In cooperation with the

Institut for Digital Ethics

(IDE) at Stuttgart Media University


February 23, 2018

Agnes Annika Wiedemann vom Studiengang Druck- und Medientechnologie nahm den "K+E-Preis" der Flint Group Germany entgegen. Den Preis des Unternehmens für die beste Abschlussarbeit mit Druckfarbenbezug überreichte Anke Frieser-Tausch. Für die beste Masterthesis im Studiengang Elektronische Medien (Schwerpunkt Unternehmenskommunikation) wurde Sabrina Hengge geehrt. Die Laudatio hielt Studiendekan Prof. Harald Eichsteller. Der Capurro Fiek Preis für digitale Ethik ging an Bernhard Koch vom gleichen Studiengang. Die Laudatio für die Abschlussarbeit mit "besonderem ethischen Gehalt" übernahm der Betreuer Prof. Dr. Michael Müller.

Preisträger: Bernhard Koch:"Weltmodelle und Narrative rechtspopulistischer Parteien: Eine mediensemiotische Analyse von Parteiprogrammen".


2017



Hochschule der Medien verasbschiedet Absolventen

28. Juli 2017

Premiere: Preis für digitale Ethik
Erstmals vergeben wurde der Capurro Fiek Preis für digitale Ethik. Er ging an Marcel Schlegel vom Masterstudiengang Elektronische Medien (Schwerpunkt Unternehmenskommunikation). Die Laudatio für die Abschlussarbeit mit "besonderem ethischen Gehalt" hielt der Stifter, Prof. Dr. Rafael Capurro

Deutsche Welle

La voz de tus derechos


Yoani Sánchez - Brecha digital: nuevos espacios de exclusión

18 de junio de 2017
El uso de computadoras o dispositivos móviles no deja de aumentar. La conectividad, con diferencias, a veces muy marcadas, entre países y regiones es cada vez mayor. ¿Qué oportunidades brinda el aula a los nativos digitales? ¿Cómo integrar el uso de las nuevas tecnologías en la enseñanza? ¿Afecta la brecha digital a hombres y mujeres por igual? ¿Qué acceso tienen los adultos mayores a las TIC? Las diferentes brechas son tema en esta edición de La voz de tus derechos: Yoani Sánchez recibe en el estudio al filósofo uruguayo radicado en Alemania, Rafael Capurro, experto en ética de la información. Por videoconferencia desde Buenos Aires comparte sus opiniones María Teresa Lugo, Coordinadora de Proyectos TIC y del Instituto Internacional de Planeamiento de la Educación de la UNESCO.

2016


ICIL 2016
7th International Conference on Information Law and Ethics: Broadening the Horizons of Information Law and Ethics - A Time for Inclusion, Keynote: "In Search of Ariadne's Thread in Digital Labyrinths" (
PP
) (
pdf
) University of Pretoria, South Africa, February 22-23, 2016.
University of Campinas, Perspectivas Unicamp 50 ANOS. Mesa: Impactos das Tecnologias da Informação na Filosofia, nas Artes e na Ciência, (Palestra), Campinas (Brazil), September 15, 2016.
IBICT/Rio de Janeiro: Conference and Round Table, September 19, 2016.
International Conference on Cyberlaw, Cybercrime & Cyber Security, New Delhi, India, November 17-18, 2016.
.
2015

IS4IS Summit Vienna 2015. Podium discussion: Are Robots better Humans? Ethics, limitations, and promises of Artificial Intelligence, Vienna University of Technology, June 3-6, 2015.

WSIS Forum: Innovating Together: Enabling ICTs for Sustainable Development, Geneva, 25-29 May, 2015.

CONNECTing the Dots: Options for Future Action. Conference on UNESCO's Internet Study: Access, free expression, privacy and ethics. Paris, March 3-4, 2015.

Breakout Session 4: Ethics (3 March 2015). From right to left:
Cotzee Bester (Director, African Centre of Excellence for Information Ethics, Pretoria, South Africa))
Porntip Yenjabok (Assistant Professor, Kasetsart University, Thailand)
Rafael Capurro
Boyan Radoykov (Moderator, UNESCO)
Ellen Blackler (Disney, USA)
Aidan White (Director, Ethical Journalism Network, UK)
Julia Pohle (Researcher, Vrije Universiteit Brussel)
Paul Hector (UNESCO)

Rafael Capurro: Member of the Advisory Board of ID4Africa

International Society for Information Studies: "The information society at the crossroads – response and responsibility of the sciences of information" Vienna, June 3-7, 2015 (Sponsor)

2014

International Final Conference "Digital Literacy 2.0", Lifelong Learning EU Programme, Panel discussion: Information Ethics in Libraries and other Public Access Points, Berlin, January 22, 2014.
Tenth International Conference on Technology, Knowledge and Society, Paper: IT and Privacy from an Ethical Perspective (See here), Universidad Complutense de Madrid, February 6-7, 2014.
WSIS C10 Action Line: Ethical dimensions of the Information Society, Geneva. Contribution: Information Ethics in Africa: Past, Present and Future Activities (2011-2014), 10-13 June, 2014

Fourth Africa Conference on Information Ethics Kampala (Uganda), 3-4 July, 2014.

World Economic Forum: Global Information Technology Report 2014: Rewards and Risks of Big Data edited by Beñat Bilbao-Osorio, World Economic Forum Soumitra Dutta, Cornell University and Bruno Lanvin, INSEAD.



2013


UNESCO:
First WSIS+10 Meeting: Towards Knowledge Societies
, 25-27 February 2013.
UNESCO report: Uso de TIC en educación en América Latina y El Caribe. Análisis regional de la integración de las TIC en la educación y de la aptitud digital (e-readiness).
Tic_ALC-2013-UNESCO
.
UNESCO report:
Renewing the Knowledge Societies Vision for Peace and Sustainable Development
(by Robin Mansell and Gaetan Tremblay) 2013.
UNESCO IFAP Info Ethics WG:
Riga Global Meeting of Experts on the Ethical Aspects of Information Society
, Riga, October 16-17, 2013. Presentation: Information Ethics in Africa 2007-2013 (
PP
).
See
more